Peggy's Palette
by Jennifer Puk

Driving along Rowland Street, I come to a sudden halt, as a work of art catches my eye. It is not a sculpture or a stained glass window, but a house singular in its own way covered with adornment and style. I knew behind those four walls lived a creative mind, who knew the necessity of art within life, the beauty it creates, and the comfort it bestows. Behind that art appears smiling, welcoming Peggy Hepburn. An artist at heart, in mind, and body, Peggy Hepburn, owner of Somersworth's Peggy's Palette surrounds herself and her life with her incredible talent. "Art is in everything from the clothes we wear to the cars we drive to the food we eat," said Hepburn, whose business offers art classes and commissioned work from murals to portraits to decorative paintings.
Hepburn moved to Somersworth from Michigan, newly married and ready to explore life. Young, ambitious, and just starting out, she and her husband wanted something new and adventurous, thus bringing them east to a community beyond theirs in Michigan. Only 19 years old, Hepburn explored many options of being artistic, trying to get her work out there, but unfortunately failed, never finding the right avenue for her art. "It was hard because we moved to a place where we didn't know anyone and we didn't have much money because we were just starting out," said Hepburn. She ultimately became frustrated and angry, hiding her art away. Yet, over the years it began to seep out through decorating and designing costumes for her children. Not until 10 years later and through her daughter, she finally found a niche for her art in New Hampshire.
After a traumatic experience in her life, she started drawing again. It became an outlet for her, a time she could sit down, absorb herself, and not think about the thing that was so painful. Her young daughter began to sit down alongside her, following in her ways. Proud of her mother, she went to school telling her teacher that her mother could draw. Through her teacher's insistence, Hepburn was brought to the Somersworth School District and to her calling of teaching others art. She started out small, first going to classes at Maplewood to draw with students, then to organizing school wide projects, such as the 15 by 11 foot paper mache, "Maple Whale," that went on to be displayed at the Saco Aquarium, then to teacher workshops, and finally to her present day art classes in her own studio. Going into schools, Hepburn was glad to bring art back into children's eyes. "Nowadays in schools I feel that expectations are high and students aren't allowed to make mistakes, wanting that finished product in short amount of time," Hepburn said passionately. "Part of art is creating a feeling and learning through mistakes, while also finding different ways to create and problem solve. It is important to instill art because it's in every subject from writing to science diagrams to mathematical grids."Wishing to gear her knowledge and work to others who want to excel and focus on their artwork, Hepburn resolved to open her home to teaching others about art. It was the parents from Somersworth schools who first called her, wanting their children personally taught more about art and enhancing the gift they saw already instilled in their children with someone who was willing to work with them one-on-one.
Her classes have grown over the years from only four students to about 50 per week. She teaches all ages from first graders to senior citizens. "Art is forever," Hepburn said. "It doesn't have an age limit on it, no breaking bones, no physical wear of body. You can always sit down with a pencil or paint." Hepburn's work additionally expanded to commissioned artwork, going into peoples' homes to give them their desired image of art from murals in bedrooms to family portraits.
The wonderful essence of Hepburn is her versatility. She's not just a painter or a sculptor or a muralist, but all of them rolled into one. Following her mood, she reaches out, trying new art forms from greeting cards inspired by her own poetry to photography to mosaics to decorating local shops. Most of her students and clients come not from advertisers, but from word of mouth alone all around the seacoast area. She and her work are trusted to be beyond satisfactory. Eclectic, passionate, and talented, Hepburn brings the joy of art into the community, showing people that art is everywhere, achievable in any hands, and created in endless forms. "Why do just watercolor, when you can do oil, too," said Hepburn with a smile.
Visit http://www.peggyspalette.com/ for more details.

Dear Somersworld,
I was so happy that my daughter Rachel Fournier, who lives in Somersworth sent me the link to your paper, issue 36 August 10th 2004.In it I found the story on 'PEGGY'S' PALETTE' ... by Jennifer Puk. I am extremely pleased to say that Peggy Hepburn has become a dear friend of mine since about 2 years ago.
I first got to know Peggy when my granddaughters, Bethany and Heather were going to her art classes. I came over from England for a two week visit, and went along to Peggy's with them for an art class one evening. I was awe-struck by her immense art collection in every room. I wandered from room to room studying all the many wonders. We drew together, and crafted angels ... Peggy and myself got along so well that we have remained friends, communicating by e-mail's, etc. I go along to her evening art classes on the occasions that I visit my daughter in Somersworth each year.
Peggy has an immense gift; she is multi talented, full of warmth, and has a kindliness that overflows upon meeting her. Mothers take note ... send your children to Peggy's, and wonder at their new found artistic creativity. I wish 'Peggy's Palette' a great future ... her talent has spread world-wide now.
Yours Sincerely,
Julie Fletcher
England
My family and I would like to recommend art lessons from Peggy's Palette in Somersworth, New Hampshire.
Peggy Hepburn is a veteran art teacher, as well as an accomplished artist in her own right. Peggy provides a peaceful, welcoming studio for all levels of ability and her enthusiasm for art is shared with all of her students. From the first call to inquire about lessons eight years ago, it was clear to us what a nice person Peggy is, and how much she cares about her students and providing a safe, pressure-free environment, which is positive, creative, and stimulating for each student. In the studio, one is surrounded by examples of art which includes a variety of mediums, and all are encouraged to pursue artistic creations of every kind.
Peggy's love of art is evident from the moment you see her home and gardens. Her impact on my family has been significant. My oldest daughter, Heidi is now in art school in Boston at the Massachusetts College of Art and Design studying graphic design. When she has breaks, she continues to study with Peggy. My two other children also take art with Peggy while pursuing engineering classes at the career technical center at their high school. They both have found their study of art to be especially helpful with developing the essential twentieth-century skills required for success in today's working world.
If you have any questions for me about Peggy's Palette, I would be happy to speak with you. Please feel free to call me at (603) 740-8580. –Lara Scammon (Dover, NH)
Received this lovely email and art piece from a former student...
I took art lessons with you a few years ago and have not lost my love for art. I just wanted to share with you my first paid artwork. It's about 2 and a half feet tall and done with pastels, which I'm beginning to think may become my new favorite medium.
I have so many wonderful memories of art class with you, which was always my favorite part of the week. I still use techniques you taught me for drawing and p...ainting and our house is always decorated with one seasonal project or another that we did in class. I'd like to thank you for everything that you did for me when I was younger that helped me get to this point of getting paid for my artwork!
Thank you- KE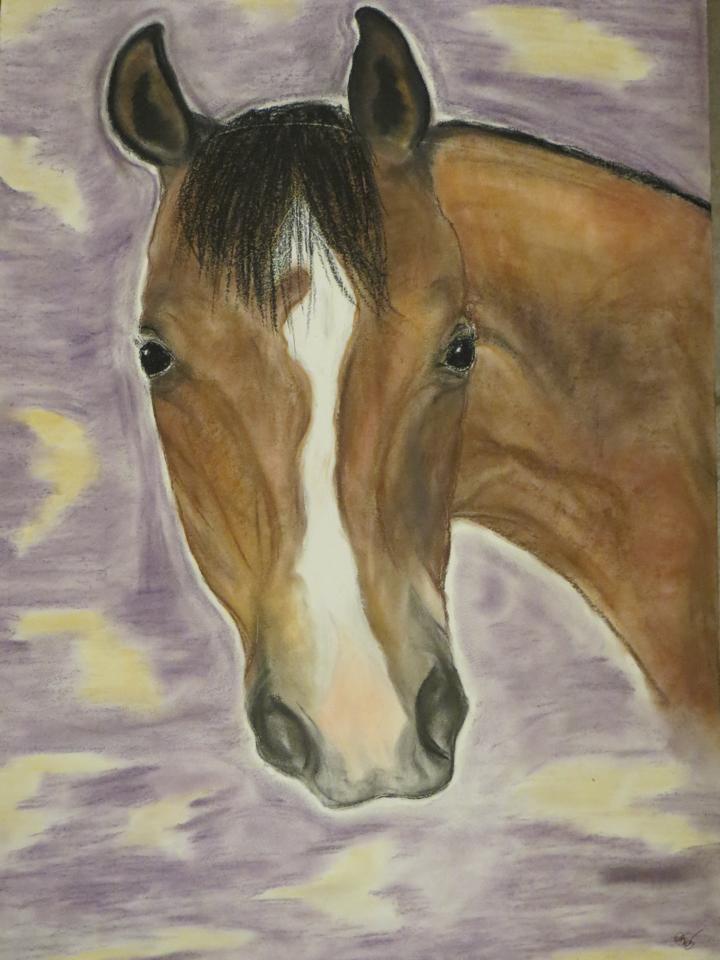 Peggy's Palette of Somersworth New Hampshire is a place I am glad I got to experience in my young life. Being able to have a safe place to go to out of my academic setting, gave me a place to relax and cope with all the emotions and stressful accounts you have as a young adult in this day in age. I was able to be myself, be creative, and most importantly create, being able to go home with something tangible and physical I could be proud of. Even if I began a piece in a dark place, you could see that after spending time at art class, my mood improved and it was reflected in my art.
Peggy as an art teacher, was there for me as a support system, gave me creative and fun settings and provided more than sufficient supplies in all artistic mediums.
Peggy is the type of woman who takes you on fieldtrips on Halloween to the local cemetery to read you poetry, create art and finish with a warm Hot Cocoa, and the type of person to show you that not only is art something you can do after school, but you can apply to your life in a variety of ways.
One of the most important things of art is having inspiration. Inspiration is something whether it is an experience, physical object, or mental image that gives you the ability to produce art. The best thing I could say about Peggy is not only was I given all of those things, but Peggy Hepburn herself, as herself, as an artist, was an inspiration.
Lastly, Peggy's Palette has always been an affordable place for the many life long friends I have made and if anyone was going through a rough financial path Peggy has always been understanding and accommodating of anyone's finical situation. Even as prices have risen in the state, never have Peggy's. Peggy's greatest payment is her love of teaching and getting to experience the artist journey with anyone who comes in her path.
I can honestly say knowing Peggy and attending her classes have made me the person I am today. I am out there in life, doing what I want to do, and implementing art everywhere I can. I am blessed to know Peggy, be her student of life, and call her a friend, -Hiromi Mizu